Here are some pictures...

This is the "peak tram". It is a trolley style car that gets pulled up the mountain side, at times at a severe incline, to take you up to the Peak. (See the link over on the sidebar.)



Here I came across an Anti-Communist Party Rally just outside of the Hong Kong Cultural Center along the promenade. As you can see, they drew quite a large crowd.



Above is a picture of the Star Ferry and the Star Ferry terminal which takes you across the harbor to the island (Hong Kong Central). Although it was really cloudy on the day I was there, you can make out the huge skyscrapers that occupy nearly every inch of the island.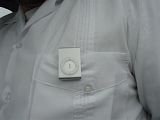 This domed building is the Hong Kong Space Museum.



The subway system in Hong Kong is a quick, clean, and easy way to get around. I would usually walk everywhere during the day, then when I was exhausted at night, I would just take the subway back to my hotel.



A view of Mongkok, Kowloon (Mainland Hong Kong) from 38 floors up.



This is the main level of the Langham Place Mall. These people love to shop!



Here is a picture of my room. Nice LCD TV, but there is only so much CNBC you can watch!



OK... so I must admit that after 24 hours in a plane, the first "exotic" oriental experience that I am treated to is... Starbucks! This is a shot right outside of customs at the Hong Kong airport. In all, I think I counted about nine Starbuck's peppered throughout Hong Kong.